18 Types of Pothos Plants Varieties with Names & Pictures
Some links in this post may be affiliate links
Pothos are easy-care plants which grow by climbing or trailing and are perfect subjects for a hanging basket, a pedestal, a trellis, moss stick and anywhere they can be allowed to climb or hang downwards.
Pothos are flowering, perennial plants in the family Araceae. True Pothos are botanically classified as Epipremnum aureum formerly Scindapsus aureus, though some plants in Epipremnum pinnatum and Scindapsus pictus have been referred to as Pothos. However, their care and growing conditions are similar.
We have herebelow outlined Pothos varieties that you can grow indoors successfully.
18 Different Kinds of Pothos Plants
Pothos though toxic to both humans and pets are popular houseplants on account of their ease of care and foliage variety. Below are some Pothos Plants with names and pictures.
Epipremnum aureum Pothos Plants Varieties
1.&nbspGolden Pothos (Epipremnum aureum)
2.&nbspNeon Pothos (Epipremnum aureum 'Neon')
3.&nbspMarble Queen Pothos (Epipremnum aureum 'Marble Queen')
4.&nbspManjula Pothos (Epipremnum aureum 'Manjula')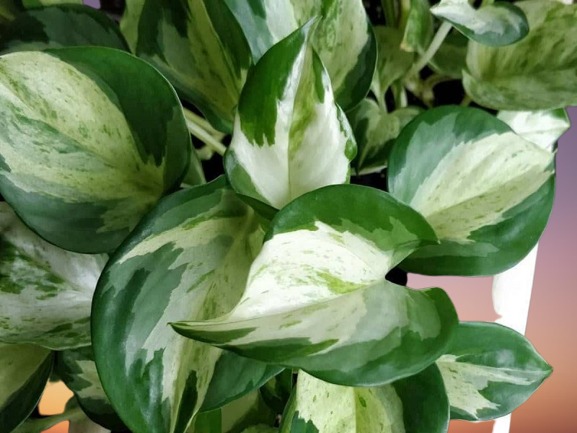 5.&nbspPearls & Jade Pothos (Epipremnum aureum 'Pearls and Jade')
6.&nbspN'Joy Pothos (Epipremnum aureum 'N'Joy')
7.&nbspSnow Queen Pothos (Epipremnum aureum 'Snow Queen')
8.&nbspJessenia Pothos (Epipremnum aureum 'Jessenia')
9.&nbspJade Pothos (Epipremnum aureum 'Jade')
10.&nbspGlobal Green Pothos (Epipremnum aureum 'Global Green')
11.&nbspGlacier Pothos (Epipremnum aureum 'Glacier')
12.&nbspHarlequin Pothos (Epipremnum aureum 'Harlequin')
Epipremnum pinnatum Pothos Plants (varieties)
13.&nbspDragon Tail Pothos (Epipremnum pinnatum)
14.&nbspCebu Blue Pothos (Epipremnum pinnatum 'Cebu Blue')
15.&nbspBaltic Blue Pothos (Epipremnum pinnatum 'Baltic Blue')
Scindapsus pictus Pothos Plants (varieties)
16.&nbspSatin Pothos (Scindapsus pictus 'Argyraeus')
17.&nbspSilver Satin Pothos (Scindapsus pictus 'Exotica')
18.&nbspTreubii Pothos (Scindapsus pictus 'Treubii')